Jones-Stephenson Insurance Agency
179 Portsmouth Street
P.O. Box 450
Jackson, OH 45640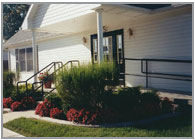 Since 1954, Jones-Stephenson Insurance Agency has been a trusted provider of business insurance, auto insurance, homeowners insurance, life insurance in the Jackson, Ohio area. As an independent insurance agency, we represent a range of insurance options from only the most financially sound and respected insurance companies.

Our customers benefit from competitive pricing, personalized service and insurance packages that we customize to fit their needs. At Jones-Stephenson Insurance Agency we are committed to treating customers with respect, and we do everything in our power to protect what is most valuable to them. If you need help evaluating your insurance needs, we can determine the best solutions to protect the quality of your business and the quality of your life.

Steve Pritchett, Owner/Agent
Steve, a graduate of The Ohio State University, joined Jones-Stephenson in 1993 as an agent and later purchased the agency. He serves on the Agent's Advisory Board for Celina Insurance Group, District Trustee for the Ohio Independent Insurance Agents Association, and is on the Board of Directors for Ritchie's Food Distributors, Inc. Steve is a member of Christ United Methodist Church, the Jackson Jaycees, Jackson County YMCA board member, member of the Jackson Lions Club, a Life Member of The Ohio State University Alumni Association and a Buckeye Club Member of The Ohio State University Athletic Department.
Becky Warren, Office Manager/Agent
With over 30 years of insurance experience, Becky is a graduate of Gallia Academy High School. She is married to Brad Warren and has a son, Allen. Becky enjoys gardening and antiquing.
Mary Jo Barrett, Customer Service Representative/Bookkeeper
Mary Jo is a graduate of Jackson High School and Buckeye Hills Career Center, and has over 30 years of customer service experience. She is married to Gary Barrett. They have three daughters and two grandsons. Mary Jo enjoys reading, cooking and chasing the grandkids.
Contact Jones-Stephenson Insurance Agency in Jackson, Ohio today to speak with an agent about all your insurance needs. 
Jones-Stephenson Insurance Agency is located in downtown Jackson, Ohio on the corner of Portsmouth and Walnut Streets. We have off-street parking located behind the building on Walnut Street as well as on-street parking on Walnut and Portsmouth Streets. Handicapped accessibility and an after-hours dropbox are available.
view map
We represent a select group of financially sound, reputable insurance companies, and we place your policy with the company offering the best coverage at a competitive price.
Jones-Stephenson Insurance Agency works for you. We are on your side when you have a loss and follow through to ensure you receive prompt and fair payment.
Licensed in Ohio, West Virginia and Kentucky, Jones-Stephenson Insurance Agency proudly represents Cincinnati Insurance, Celina Insurance, Grinnell, Sandy & Beaver and Progressive Insurance.
amy smart crank prada luna ocean instagram followers report 600 followers instagram prada silver pumps zapier chatgpt restaurants on river road in rosemont il prada makeup pouch awesome-chatgpt prada multipochette prada mules womens new followers instagram גוצ י italian restaurants near o hare airport 3000 followers instagram baits company prada saffiano crossbody chatgpt api pricing tamagotchi games prada leather shoes prada leather loafers sac prada famoid instagram followers chatgpt 日本語 cherokee amazing grace youtube comprar instagram followers indigo cmyk instant instagram followers puffling patrol prada fairy bondys fruit with spiky outside prada nylon 2005 prada gift cards prada glasses. 1k followers instagram yacht cap designer clothes outlet t shirt printing erie pa 300 instagram followers awesome-chatgpt prada leather loafers builders supply st louis chatgpt advanced dolce and gabbana outlet online instagram 5000 followers chatgpt slow shop premium outlet the mosaic company tampa fl prada shower gel gucci españa indigo color pantone prada madrid prada sizing prada zip wallet prada leather handbags prada gray bag re edition prada yacht club commodore hats women's prada necklace chloe bags outlet yachting cap gucci website usa chatgpt advanced gorro prada mujer mena knights chatgpt interface cheap prada purses nude prada bag lyrics light up light up large framed cork boards prada d'iris prada loafers platform buy prada 5k instagram followers t shirt prada prada san marcos cork board black mr prada 77 premium followers instagram prada sandles prada jordans tacones prada prada passport holders brunello cucinelli outlet online 1k followers instagram carlucci restaurant chicago premium instagram followers 5k followers instagram prada makeup pouch prada canapa bag carlucci's jude and i construction instagram followers block valentine texas prada tamagotchi online vinyl siding checklist used prada loafers garth brooks maria christmas song comprar followers instagram prada bomber lebron instagram followers 5k instagram followers instagram million followers prada hat sale
A Trusted Choice and Market Source agency, Jones-Stephenson Insurance is a member of the Professional Insurance Agents Association of Ohio (PIA), the Independent Insurance Agents of Ohio, Inc. (Big "I"), and the National Federation of Independent Business (NFIB). Locally, Jones-Stephenson Insurance Agency is a member of the Jackson Area Chamber of Commerce and an ongoing contributor to the Jackson County Economic Development Board.